Radome is a protective housing for antenna made from dielectric material that is transparent to RF energy. Agni Fiber has developed Radomes of variable applications. A lightweight and different size and shape radome has been developed meeting stringent electromagnetic specifications.All the radomes have been cleared after full scale structural, lighting and electromagnetic tests.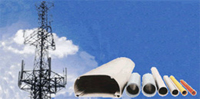 Agni Fiber offers a large number of fiberglass reinforced plastic products, our own company is a professional manufacturer in frp area which brings in advanced technology
FRP radome is playing an outstanding role in modern communication.
| | |
| --- | --- |
| | Light, easy to transport and install |
| | Resist corrosion, and anti-aging with long service |
| | Good electrical insulation property , superior quality of radio wave through |
| | Steady working in bad circumstance like windy and snow |
| | Ultraviolet ray resistant. |
Our radome are electromagnetic tuned to minimize the transmission losses in various microwave bands including P, L, S, C, and X bands. The CAD design ensures that the radome works well under high wind conditions and harsh environment. Our radome is also designed for easy transportation, installation and beautiful appearance.

FRP, by its nature, is an adaptable material. It's uses cover a broad range of applications. This section gives you a brief outline of the properties that make FRP such a useful material.
A unique property of FRP is itís RF(Radio Frequency) transparency. This is particularly useful in the manufacturing of radomes, doppler system, etc. The polyester resins generally have a low dielectric constant making them good potting materials for capacitors and other electrical equipment. FRP is an exceptionally good insulator, having a dielectric strength of 300 to 500 volts/mil so that it has taken the place of ceramic insulators and has particular use in power transmission equipment.
The outdoor weathering properties of FRP are generally very good because of its excellent chemical resistance. However, there is a certain susceptibility to ultra violet rays which require that ultra violet absorber be specified for translucent laminates. In addition, all exposed laminates should either have a gel coat or a glass surfacing mat specified for the exposed surfaces to prevent fiber "blooming" or surface exposure of the fibers.
We have developed successfully the FRP radome used for HF,VHF,UHF ,GSM, CDMA, WLAN, WiMax Radio ,Radar, Microwave antenna in Telecommunication The radome has been exported overseas market
We design and manufacture FRP radomes according your requirements and provide them with high quality and best prices