Telescopic Operating & Discharge Rod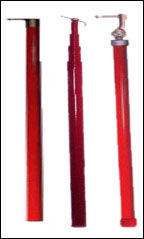 Agni FRP Telescopic Operating Rod is made of epoxy resin and boron free fiberglass rovings pultrusion tubes, which are safe for exposing the worker to a large risk of electric shock.
Hot sticks are manufactured from the highest grade electrical rated fiberglass and meet or exceed all applicable industry performance criteria including ASTM F711, ASTM F1826, and OSHA 1926.951(d).or IEC 60060 and IS 2071 part.
Applications
By attaching different tools to the end of the hot stick, a worker can use Telescopic rod for below applications,
Test for voltage
Tighten nuts and bolts
Brush items
Prune foliage
Prune foliage
Connect tie wires

Install insulating sleeves
Disconnect switches
Replace cutout tubes and reclose
Remove pole covers
Replace bulbs
And complete many other overhead tasks
Electrically Insulated Telescoping Tools have maximum convenience for the lineman because they permit him to perform many routine jobs from ground level.
Design Features
Heavy duty, greater strength and high dielectric properties.
Spring-loaded Interlocking buttons
Keep the extended tool sections securely locked in position. As each section is extended and twisted slightly, the buttons pop into place, allowing working to be done with complete control and confidence.
Work for HV line up to 33 /66/ 132/220/400KV
WATER ABSORPTION : 0.1%
PU filled top section
Silicon rubber gripper for proper handling of telescopic rod
Universal head is adaptable to standard fit on accessories.
Smooth and glossy finish
Tested in Govt. Approved Test lab as per IEC standard for 440KV System Voltagr
Technical Specifications
Effective
Total height
Base Dia
End Dia
Inside
1 mtr.
BASE TUBE DIA 32 mm
25 mm
1
2mtr.
BASE TUBE DIA 32 mm
25 mm
2
3mtr.
BASE TUBE DIA 32 mm
25 mm
2 or 3
5.5 mtr
BASE TUBE DIA 45 mm
25mm
4
These rods are available up to 8 meter length and can be customized as per the clients' specifications.

high voltage sticks, high voltage hot stick, telescopic hot stick, telescopic hotstick, telescopic hotstick fiberglass, telescoping hotstick, telescoping hot stick,FRP Operating rod ,Discharge Rod,earthing rod Telescopic Hotstick extends from 26" to 8 ft., universal-spline, 1.25" diam. fiberglass. hot sticks/ H.T. Power/Live Line Detector