Cable Tray Features
Corrosion Resistant Excellent
Environmental Resistant
Rigid & Structurally Strong
High Impact strength
Light Weight
Non Conductive (Electrical & Thermal)

Non Sparking
Chemical Resistant
Non Magnetic
Resistant to Chipping and Cracking
U. V. Stabilized , UV resistant
No Water Absorbsion
Cable Support Systems resist acids, salts, alkalis and a wide range of aggressive chemicals and environments which have drastic effects on galvanized steel and aluminum
Non Conductive And Non Magnetic
As cable ladder and tray is non conductive, there is no concern of transmitting electricity into the support system from damaged cables. Additionally, there is no requirement for special support conditions to prevent electrolytic corrosion. Non conductive and non magnetic features mean a safer support system.
Cable Tray Design Standarad
All cable support system components are manufactured using isophthalic polyester fire retardant resin systems that enable compliance to the VO rating of UL94, a flame spread rating of less than 25 for ASTM E-84 and a self extinguishing rating under ASTM D635.
For a more aggressive corrosion environment, a vinyl ester resin system is available to order, with equivalent fire retardant properties.
Cable Support Systems are designed to comply with the requirements of NEMA specification FG1-1986 under three load/span classifications.
CLASS A : 75kg/m on a recommended maximum span of 3.5m
CLASS B : 110kg/m on a recommended maximum span of 6.0m
CLASS C : 150kg/m on a recommended maximum span of 6.0m
Ladder Cable Tray We Provide
Solid side rail protection and system strength with smooth radius fittings and a wide selection of materials and finishes. maximum strength for long span applications
standard widths of 6(150),12(300),18(450), 24(600), 30(750), and 36inches (900 mm)
standard depths of 3(75 mm), 4(100mm), 5(125mm), and 6 inches (150mm)
standard lengths of 10, 12, 20 and 24 feet
rung spacing of 6(150mm), 9(225mm), 12(300mm), and 18 inches(450mm)
Other tray dimension can be made to order.
Ladder cable tray is generally used in applications with intermediate to long support spans, 12 feet(3meter) to 30 feet(5 meter).
HEIGHT
MATERIAL
WIDTH
ANGLE
TYPE
RADIUS
75mm/3 inch
100 mm /4 inch
150 mm/6 inch
Fibreglass
Polyster
Resin
or
Fibreglass
Vinyl Ester
Resin
150 mm/6 inch
225 mm /9 inch
300 mm /12 inch
450 mm/18 inch
600 mm /24 inch
750 mm/30 inch
900 mm/36 inch
30º
45º
60º
90º
Horizontal Bend
Horizontal Tee
Horizontal Cross
Vertical Inside Bend
Vertical Outside Bend
Vertical Tee
Vertical Tee, Up
Right Reducer
Left Reducer
Straight Reducer
Horizontal Wye, Right
Horizontal Wye, Left
300 mm
600 mm
900 mm
1500 mm
Cost Performance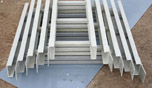 Very favorable results have been demonstrated with our Cable Support Systems, emphasizing low installation costs, long service life and a minimum of maintenance.

Cable Ladder And Tray Accessories


Splice Plates
Splice Plates for Cable Tray up to 150 mm in width are 40 mm wide. For tray greater than 225 mm in width, and medium duty cable ladder, splice pates are 55 mm wide, and for heavy and extra heavy duty ladder are 100 mm wide.
| | | |
| --- | --- | --- |
| | | |
| Straight | 45° Horizontal | Expansion |
| | | |
| | | |
| 90° horizontal | 45° vertical | Adjustable Vertical |
| | | |
| | | |
| 30° Vertical | 30° Horizontal | 30° Horizontal |
| | | |
| | | |
| Adjustable Horizontal | | |